http://www.musicincincinnati.com/site/reviews_2015/Berman_Kholodova_Create_Stirring_Narrative.html
Berman, Kholodova Create Stirring Narrative
Mary Ellyn Hutton Posted: Apr 18, 2015 - 2:08:00 PM in reviews_2015
Digg this story! Printer friendly page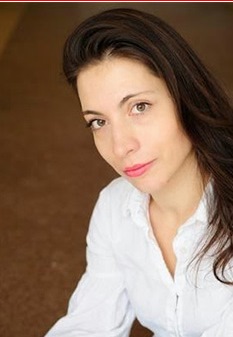 Elena Kholodova
Using ten short pieces, the concert mixed live performance and video monologue to present a narrative of Berman's life. Selections ranged from Bach to Arvo Pärt, and each was exquisitely performed by the two artists. There was beautiful lighting (front and back) and a video screen, where Berman's comments were projected. Century-old, beaux-arts style Woodward Theater, currently undergoing renovation, made a welcoming venue. The entire performance was filmed. Featuring violinist/Constella managing artistic director Tatiana Berman and Cincinnati collaborative pianist Elena Kholodova,  it was about the experience of music and how it can both affect and reflect our lives."Not So Classical," seventh event of the 2015 (fourth annual) Constella Festival of Music and Fine Arts Thursday night at Woodward Theatre in Over-the-Rhine, was something special.
Berman, a native of Moscow, began in her native country with memories of visits as a child to her grandmother's garden. This was reflected in the gentle, affecting Arioso from Bach's Cantata No. 156. Following this came the plaintive Melodie from Gluck's opera"Orfeo ed Euridice." The latter, she said, recalled the moment tragedy struck with the death of her mother when she was 12. Bathed in blue light, she gave it an extremely touching performance, recalling how "knowing and remembering my mom's spirit kept me going."
Her life changed again, she said, when, after studying at the Specialized Music School in St. Petersburg, she received a scholarship at the Yehudi Menuhin School in London and the Royal College of Music. Here she learned "how big the world was," she said. This was given voice by a delightful reading of "Vogel als Prophet" ("The Bird as Prophet") from Robert Schumann's "Waldszenen." Berman darted around the violin, with merry trills and bird calls, truly embodying a young bird on the wing.
Debussy's "Claire de Lune," expressive of her first love and marriage, was soft, caressing and supremely musical, with a soaring arc to it. "Everyone can create their own beautiful love place when they hear this," Berman said.
"Who was I? It took a while to discover," she said, referring to the turbulence of divorce and needing to find her own identity again. Playing the third movement of Schumann's Violin Sonata No. 1 "reminds me of that," she said, giving it a performance that was both brilliant and boldly assertive.
Berman's newly restored confidence, when she discovered "who I was and what I wanted to do," received virtuosic expression in Tchaikovsky's Russian Dance, Op. 40, No. 1. Her two daughters "were always there for me and I was always there for them," she noted.
"I am interested in a lot of different things," Berman said, introducing Four Preludes from Shostakovich's Twenty-four Preludes for Piano, Op. 34, arranged for violin and piano by Dmitry Tsïganov. She had learned to "be yourself and create the things you really want to create" (including in 2011, founding the Constella Festival of Music and Fine Arts). Front lit in warm, red light (matching Berman's gown), this energetic set ended with a decidedly arch-sounding Prelude No. 24 in D Minor.
Adding music for reflection, she and Kholodova performed Arvo Pärt's dreamy, spellbinding "Spiegel im Spiegel" ("Mirrors in the Mirror"). Here, she said, "you feel like you are transported to a different place in time."
Debussy's lovely "La fille aux cheveux de lin" ("The Girl with the Flaxen Hair") from his Preludes, Book 1, No. 8, tenderly played by Berman, recalled the moment, she said, "when I became open to new beginnings, when I was ready to love again."
Capping the program was Berman's own arrangement with Julie Spangler of the famous Chaconne in G Minor by Vitali. Entitled "Vitali Variations," it signified the establishment of a "new chapter in my life," Berman said. Lit in multi-colors she and Kholodova gave it a splendid interpretation. "Life is really about love," Berman said, "and that is what matters."
Berman and Spangler's music video "Vitali Variations" (performed by Berman and Spangler) can be found on YouTube.
The Constella Festival continues with "Constella Late Night," featuring The Happy Maladies, at 9 and 10 p.m. tonight at Ivy Lounge, 645 Walnut St. and "Constella Dance: Stories of Hope and Despair" with Berman, Kholodova and dancers from Cincinnati Ballet at 3 p.m. Sunday in Harriet Tubman Theater at the Freedom Center, 50 E. Freedom Way. Information and tickets at www.constellafestival.org